United Methodists clergy and business leaders gather to learn about and support StepUp Durham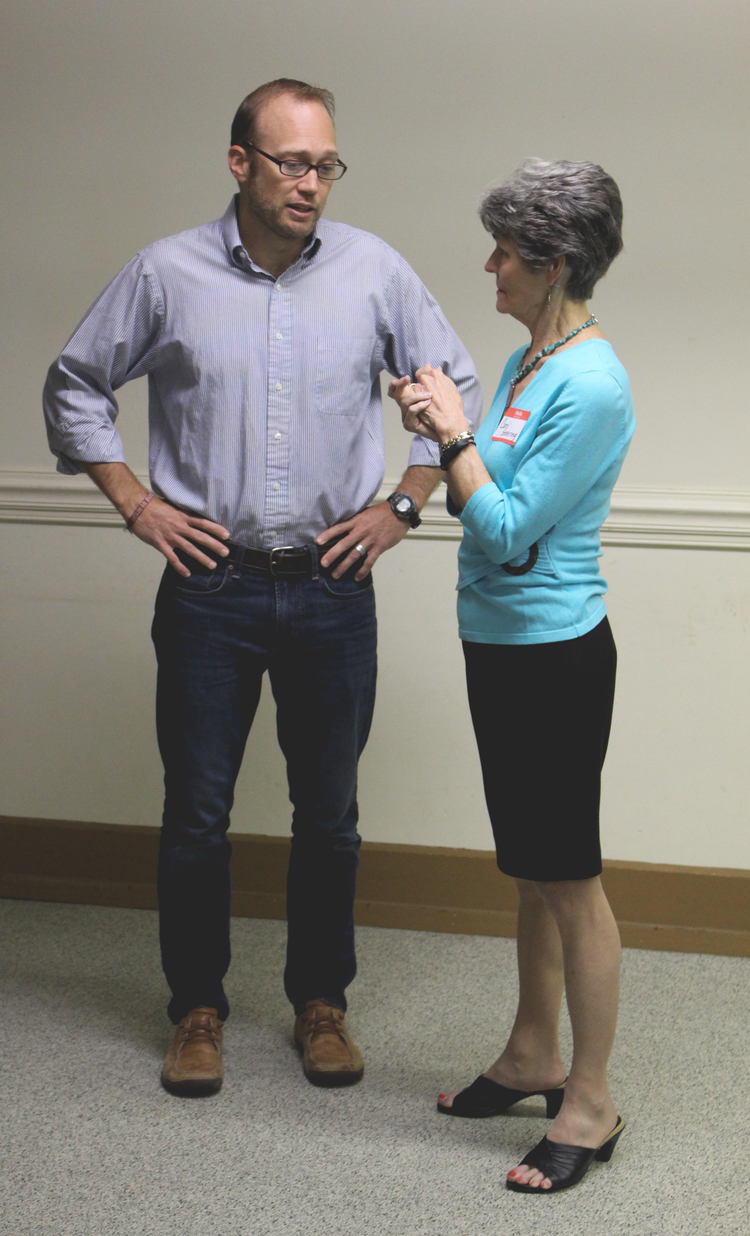 Carol Goehring is the current District Superintendent for the Corridor District of the North Carolina Conference of the United Methodist Church.
By Carol Goehring
It was a breakfast meeting, and even at that early hour in the day, what surprised me most was the honest conversation about the feeling of being burned by a bad hire. It was almost a universal experience, as the business and church leaders gathered shared in guided conversation.
Nine United Methodist churches in Durham and seven businesses were represented around the tables at Asbury United Methodist Church. While Asbury hosted the event on May 4, providing some amazing food and a welcoming environment, it was StepUp Durham that introduced themselves as new members in the community. StepUp Durham is a ministry that partners with adults and children seeking to transform their lives through employment and life skills training.
Rev. Erin Roesch, a clergy member of the North Carolina Conference of The United Methodist Church, is Director of Development and Employer Recruitment for StepUp Durham. In just eight months, the organization has recruited over 40 local businesses to hire StepUp participants, including Duke University, Durham's largest employer. In that same period, 26 StepUp participants have obtained meaningful work, allowing them to improve their lives with stable income and renewed self-confidence.
Most of the guests at our breakfast gathering were small business owners and pastors--all of whom had hired someone at some point over the course of their career. Each had a story to tell, a story of strained resources and relationships, when an employee's challenges with substance use or criminal history affected their work. Together, we acknowledged our fears and biases, and our wariness in hiring anyone with a known criminal background, history of substance abuse, or employment gaps. Risk-management, we concurred, is costly in terms of time, emotional energy and often, financial resources. Not something most churches or small businesses can afford.
And yet, poor choices are not uncommon, and we agree that one should not have to suffer the consequences of poor choices forever.
StepUp Durham is aware of the setback a poor choice can have not only on a person's self-image, but also on their employment journey. That is why the StepUp staff took time at our breakfast to explore the benefits of employing an at-risk applicant that has been trained, screened, referred, and supported by StepUp. We learned that in hiring from StepUp, businesses are able to make informed and responsible choices about the applicants they interview and hire.They can do so because StepUp provides:
32 hours of training for employment readiness in which a candidate learns how to prepare a resume and/or application, interview well, dress professionally, and demonstrate accountability through effective communication and time management
Access to economic incentives for hiring someone with a barrier to employment, such as tax credits, grants, and Federal bonding--all of which add financial value to a business
A resource to increase diversity in the workplace, whichstudies have shown is good for the business
StepUp staff also led those gathered in an examination of the social and communal benefits of hiring candidates who may be otherwise marginalized within the workforce. We learned that In providing economic opportunity to a StepUp participant, businesses:
Stabilize unemployed or underemployed adults and families, restoring both their dignity and their ability to invest in the community via income taxes and other means
Enable individuals and families to move out of homelessnessand take steps towards economic independence, thereby reducing their need to navigate complex governmental and nonprofit programs
Better serve their customers by having a workforce that reflects the wide range of experiences present within a customer base. Chances are, a business has served someone with a criminal background. Has it hired one?
Create opportunities for those with a criminal record to earn an income and sustain their family, thereby reducing the risk for reincarceration. The costs of incarcerating a person for one year stands at $30,000. StepUp can partner with a person to find employment for $1,200 and thereby reduce the likelihood of recidivism.
For members of the faith community, and in urban churches especially, the needs of those facing economic insecurity are ever before us. Systemic solutions are hard to identify and often even harder to implement. StepUp is one organization, however, that is offering not only hope to the unemployed and underemployed of Durham, but concrete employment outcomes that generate income and reduce poverty. I am excited to see what 2016 holds for them as they continue to engage business leaders, faith groups, and job seekers in this noble endeavor.